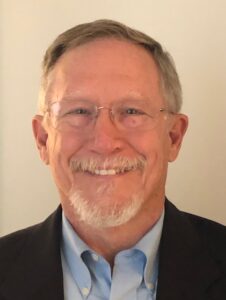 Rev. Steven H. Rhodes
     I am a Navy brat, born on the Naval Air Station at Guantanamo Bay, Cuba.  After graduating from Florida State University I was a counselor at the Florida Sheriffs Boys Ranch as it was called then.  Later I ministered to high schoolers with Young Life in Daytona Beach.  Feeling called to the ministry, I entered seminary and was ordained in 1982.  Over the years I have served churches of different sizes and different challenges.
Officially retiring in 2018 after 42 years of ministry, my wife Judy and I moved to Pensacola.  After a season of rest, God called me to serve here at Northminster.  I have always had one passion:  to share the Gospel of Jesus Christ.  I enjoy helping people grow closer to God and then follow Jesus into the world.
Judy, a graduate of University of West Florida, and I have four children and eight grandchildren living in four different states.  It is a joy to spend time with them!  I also enjoy playing golf, reading about physics, making things and going to the beach.
Rev. Steven H. Rhodes
revrhodesnpcpensacola4@gmail.com
Barry Frost – Director of Music
music.npcpensacola@gmail.com
Any questions or concerns you may have please email us at: npcpensacola@gmail.com OR call us at: (850) 484-9224